Everyone's still here? Good. I bring you a picspam! For the maximum enjoyment, please have
this song
playing in the background.
Alrighty, let's go!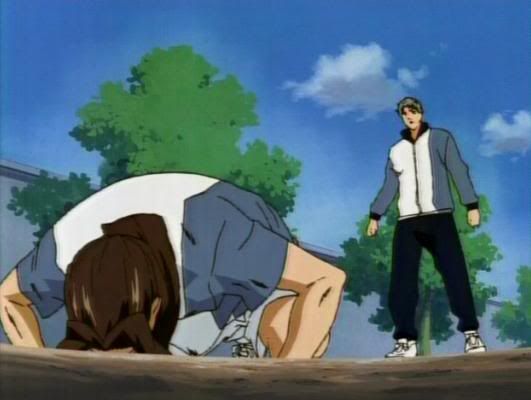 One, two, princes kneel before before you
(
that's what I said, now
Collapse
)
*taps microphone* testing...
Someone was asking about a bigger image of the 1st PairPuri DVD cover (the one with the Imperial Pair).

The bigger images of the other 3 DVDs are under the cut, along with forgotten images on various subjects.
(
More DVD covers and other images
Collapse
)
Here is an image of the Seigaku regulars that many people like. Almost half of them have a hand on someone. I like how they seem to have the original traditional pairings, so this could go under the themes of Seigaku and couple shots.



WARNING: For those who haven't seen the PairPuri DVDs, the following images are mostly spoilers.
(
WARNING: PairPuri SPOILERS
Collapse
)
White Line
is playing in the background. I like that song. Another theme it could go under is emotions, because several emotions were shown before and after it.
(
More sunrise and music
Collapse
)
I like when the Seigaku regulars went mountain-climbing to watch the sunrise. Here is a picture it, which could go under the themes of weather and music since during and after that Aozu's
I'll now post some missed scenes from the PoT movies.
Near the beginning of The Two Samurais: The First Game, a seagull is flying over and around the cruise ship. The weather seemed nice, too.

(
More movie images
Collapse
)
I'm going to post images some of us missed for past themes, so this post can be seen as non-theme or several weekly themes. Actually, I was the one who forgot many of the following images.
First, I missed this scene in the chibi episode on Snow White for the animal theme. It's Fuji's image of Snow White with a bird.



( More missed imagesCollapse )
Someone mentioned the scene with Captain Tezuka and Fuji studying in the library. Sorry I forgot that one, so here it is.

(
Reposts and more scenes
Collapse
)
I think one reason I watched Episode 27 too many times is because I like seeing the characters' lives outside tennis. We'll begin with Oishi passing by Kawamura Sushi on his way to school. They are talking about getting up early.

(
Major academic screencap spam
Collapse
)
I think we are familiar with the following image of the Seigaku chibis sitting at their desks though not all of them are studying.

(
Seigaku and Rikkaidai desks
Collapse
)